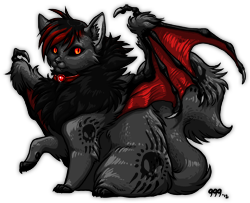 (( Griffin, humanoid [ghost] form. Warning for possible descriptions of gore in the early posts, certain descriptions of horror in later posts! This takes place immediately after this roleplay, and the following few months. ))
It was strange, it always was. Watching himself from seemingly above, out of the body, out of mind. But this time, it felt too... too real. Something was wrong. It was like Eli had pushed him out of his own body while simultaneously strangling him. Because here he was now, watching
himself
, unmoving on his own, be dragged away from the tree he'd just been pinned to.
"What...?"
Gods.
Even his voice seemed to be so far away from himself.
"What are you...?"
He turned his head to watch Eli as he dragged Griffin's body by the hair to a large stone. Griff couldn't physically feel it, but his eyes widened.
"'Lijah--stop-!!"