~**~
Wheee another update. D8 I think I'll add it to the front page too so~
Starting this Saturday, Diosol will be available for this weekend only. Which means I will not accept any more orders before Saturday or after Sunday.
Ahahaha. Pardon the scary red font, but it means truth. 8D; <3 I do also have one more addition to the Diosol news regarding rooms.
Once you 'activate' a Breeder Boost and start a room, you will have exactly two weeks to complete the room (as opposed to the normal 5 days). Rooms that are not completed within those days become forfeit and you will not recieve your Booster back. Sorry guys. Just plan ahead of time and make sure you or your partner has enough time to devote to the breeding.
Please note that this rule is not applicable to those that already have a Diosol room in progress (since that's not too fair), but we've implemented this rule because the rooms have just been festering there for the longest time now. So please finish up you rooms, and remember you have a time limit now. Sorry, dudes.
---
Okay, so I'm three days late but I hadn't thought about it until my birthday DID roll around. And what did I forget? To give you guys your annual surprise, of course. 8D Because, as tradition still holds, I always give something to Evelon on my b-day because so many awesome things happen to me on my own day. AMAZING THINGS. Like the new little baby boy that I got a day before my birthday! Now you'll understand why today's theme is all bunny-based for the most part. > U<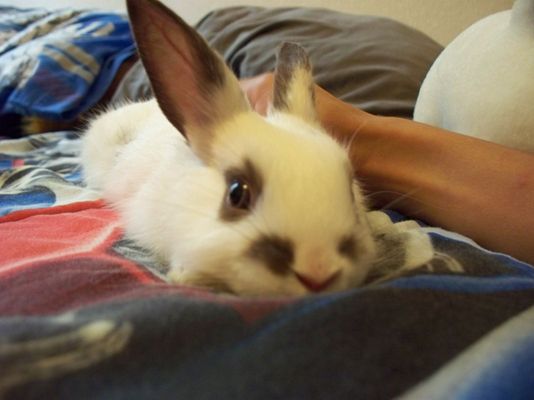 (His full name is Doctor Professor Special K BunBunz~
)
So here's to everyone, I've got a few surprises for you. c:!
Firstly, here's yer birthday freebie for a limited time! 8D Please only take
one per person
and please
post here if you got one
. It'll make it easier for documentation for the mods. I... think. C: ;;;
Introducing the
Leplora
!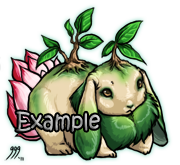 -Now Retired!-
"The Leplora is a lazy creature that enjoys nothing more than sleeping in the sun or playing around the edges of lakes, making their homes deep in the woods where their camouflage works best. The plants on its head and back continue to grow, and when the Leplora has reached the end of its life, they find the most sunny area to rest, where their plants eventually grow and become full trees. These such trees are said to carry the spirits of the Leplora. Young children adventuring into these forests are often delighted to stumble upon these spirits, and usually see them as dancing, ghostly images of their previous forms."
Okay so you remember my special little BunBunz up there? He's 2 to 3 months old and when he hits around 6 months of age, I need to get the poor baby neutered. I also have to feed him and keep refreshing his cage bedding and such, since he's mine all mine and all expenses for him fall on me as well. So in light of my new precious and worthwhile responsibility, I'd like to raise some money to keep my bunny safe and happy. > U< So why tell all of you this? Because! You can help if you want, by helping support my bunny's cause with this little fundraiser! So here's the dealio. I sell a pet, and the money for that pet gets put towards my baby's future health. :3 And here's the pet! 8D
Meet the
Diosol
!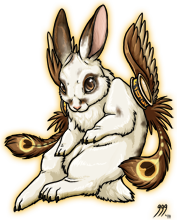 "Every year, many onlookers will see shooting stars racing across the night sky on the day just before summer. What most do not realize, is that these falling stars are really errant Diosols falling from the heavens, or so rumors go. Regardless of tales, the Diosol is a rare find indeed. Other stories about the Diosol include that they are 'servants of Yepha', and if you can harvest the energies of enough Diosol, one will be granted the gift of everlasting life. Others believe it bad luck to harm a Diosol. Even so, most Diosol are hunted for the former belief, so many Diosol are usually untrusting of others. The floating wings on their back that grant them flight cannot be explained, but seem attached to a Diosol when they are needed and can also be discarded or taken off on command. An absent-minded Diosol could actually misplace their wings. Once a Diosol learns to bond with someone, they trust in that person for life."
But wait. You can't have this one. D8 Cause it's my baby BunBunz. Why? Because this species is a 'random-custom', sorta like how you get a random, unique Sickle species from Einsor's Clinic. Only for these guys, almost all of them will be naturally colored like real rabbits or hares. Again, they're random BUT there's a catch. If you /do/ have a little rabbit in real life and you do want a Diosol to look like them, send me a picture of your little precious and I'll make the Diosol look like the picture for no extra cost.
(Orders for Diosol may be discontinued every so often so that I can have some time to do other things.)
So here's the dealio!
One Custom Diosol:
$10 each
When you order a Diosol, please email me at baalsbaby@gmail.com with your username, your order and amount, and paypal email or account name! I need to document how much of this goes to my bunny through my email. Thanks a bunch!
That's it. Simply go through the payment process and you'll get your custom, simple as that. I have some other things that may be planned for these guys too ( possible breeding opportunities in the Clinic or something ), but for now, they are what they are. :3 Thanks in advance to anyone who supports this! I've never done a fundraiser before (I don't think. o3O)
Aside from that, I'ma do a little raffle as well. Aside from the mods getting a free Diosol for again working hard, I'm gonna be having...
.:Random Luff Raffle!:.

Free of charge! There will be seven winners in total! Simply post here
IN BOLD
if you wish to enter and I'll jot down names. Just to get the Diosol love started. o Uo
Prizes:
- 3 Mysterious Eggs
- 4 Diosol
Participants:
1. Kodai
2. Pickle
3. Shieba
4. Flame
5. Kitsune Mahon
6. Thunder
7. Azura Rayume
8. Potterchic
9. Cookie
10. Jackie125
11. Amanda784
12. Josieweirdo
13. Elektra
14. Jobiehanna
15. MidnightDraconia
16. Elliot
17. Soriana
18. Draiz
19. Nyxia
20. Atoli01
21. Moofius
22. ShadowStitches
23. MillietheWarrior
24. AnimeTheia
25. Shrewdberry
26. Zapdragon555
27. Chayden
28. Freezair
29. IndigoBook
30. Auntslappy282
31. Krystalolive
32. Discordancy
33. Mousen Heath
34. GrayGriffin
35. Haunting-ur-nightmares
36. Jessari
37. Noveraa
38. Celtic
39. Sappheara
40. SkyWolf11
41. D3thNote
42. Fallen_Snow
43. ToxicShadow
44. Mojave
45. Kabuto_rocks
46. Krypto
47. Jaden_wolf
48. Talcen
49. Aussie
50. [P]olaroid.
51. Sage
52. Endermage
53. Tazzin
54. ToxxicRenegadeAngel
55. Firetra
End Date:
June 20th (Monday)
Aaaand. That's it for now. 8D Ilu all~ <3