The Disillusioned Estate was throwing a lavish party for all house guests and neighbors--said to be the biggest of the year in Evelon. It was to welcome the lady of the houses'' thirtieth birthday and there was a general hum of excitement in the air. Actually, now that one might think about it, there really was a hum in the air.
Eros flapped his ethereal Cupid wings he maintained with his magic and hung in the air over the festivities being prepared below. He sighed, casting his gaze over the expanse of the estate with a sense of defeat in his heart. He'd been here a year and still he hadn't really helped anyone find their true love. He was a fraud, a failure! A...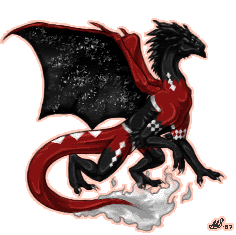 A fellow Voidbringer suddenly hovered next to him, a smirk in her eyes.
"Problems, matchmaker?
Eros had heard stories about her, but had never thought he'd actually meet the fate shifter in person. He blinked all four eyes a few times before nodding reluctantly. Deadpool snickered.
"I think we can come to the perfect course of action to fix that. Touch my claw and see what I mean..."
Though he was wary of her meaning, Eros relented. What choice did he have? he was the worst cupid in history.
The ground below, the entire vastness of the Estate, gave a sudden pink flash from every tree and blade of grass that faded just as quickly as it had appeared with a mist of shimmering silver and pink dust that hung in the air as if suspended in time itself. Anyone who inhaled it would be placed under it's spell until they found their other half...
...and slowly the entire population at the party began to sing...
((This is just an idea I had--to make my characters into something like the "Happy Feet" characters in that they all have a heart song and they use it to find their match. So there's no plot, just some character shenanigans and development.))