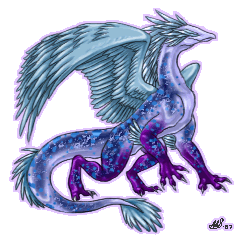 D'dant felt most comfortable in the mountains. Maybe it was because of how close it felt to the Gods above, or maybe it was just the secludedness of the place. He wasn't the biggest fan of mortals in all honesty, though he knew he would have to interact with them one way or another. Luckily, the Tuun Mountains tended to have occasional pilgrims, which he decided counted as enough of an interaction to appease his father.
But right now D'dant was not in the mountains, he was in a dream. There were marvelous plates of all sorts of exotic foods, many not available in the mortal plain. Intoxicating foods that would be dangerous for a mere mortal to ingest, too full of flavours that only the Gods could handle tasting. D'dant carefully picked his way through the crowd, graciously greeting his guests one by one.
His father sat on a grand throne, covered in gold and gems, overlooking the gathering. His face was proud, looking down at his son as he greeted the guests. His very aura commanded obedience and respect, though there was a kindness in his eyes that hinted towards the fact that he was a just ruler. He seemed quite old, and if he were mortal he may have been nearing the end of his days. In his claws he held a chalice full of sweet ambrosia, the drink of the Gods, the only think capable of truly making them buzzed or even drunk. D'dant thought about asking for some, but decided that his guests needed to be attended to first.