So I'd really appreciate it if people could give their thoughts on these two. I've been browsing the teen novel section at Hastings and all the books are about forbidden love and all that and IDK I got some really interesting inspiration from it...
I'd love any ideas you may have or constructive criticisms. These surely aren't their set is stone designs or character bios. Yes a lot of it (all of it) is super cheesy lol. Further information on their world can be provided if that is something people are interested in knowing.
After all of that rambling I suppose I'd really like feedback on their designs (Do they look royal, do they match the character). Some name help as well because I have no idea what name would fit that boy. As well as anything else someone might like to add.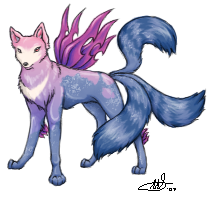 Heir to the throne of light, Molithea is sent away as a child. Her red eyes (Changed after birth because parents don't have red eyes) Are an ill omen. Her starry pelt marks her as royalty and so she is mistreated wherever she has gone. Molithea was raised by a lone female wolf who did her best to be a 'proper' mother; however, when Molithea reached 18 the she-wolf kicks her out onto the streets.
Molithea knows she is of royal descent, no one will let her forget, yet she cannot return to the royal castle. She wanders the streets as a beggar, almost losing her life to malnutrition and sickness. The only thing that keeps her alive is that she is able to transform from her beast form into a human one, although her red eyes are unnatural and the stars of her pelt replace themselves in her eyes.
The royal prince from the darkness arrives one day. Molithea doesn't know why he has shown his face in enemy territory but she plans on taking advantage of it. She figures that by killing the prince to her families enemy then she will be accepted back into royalty.
Concerns:
Her form is too dull. I like the red around the eyes and I want her to have the Psi eye. I'm afraid that her motives for killing him are not what they should be.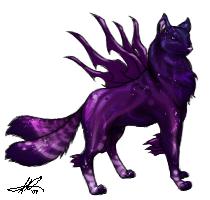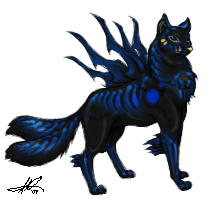 Heir to the throne of darkness,(Possible names: Ithel (Generous prince) Cyne (Royalty) Sanjaya (Triumphant, Completely victorious) Krishna (Darkness, child of gods that commits patricide) ) has become the banner boy for the darkone's war against the light. He is the first to greet the soldiers before battle, and the one who 'fights' with them on the front lines. He is also the first to parade around the streets of every newly acquired settlement, village or city does not matter.
He is a smooth talker, and one of the most beautiful and sought after men in all his kingdom. It is his kingdom, though his father may rule, no person has been able to defy him. [insert name] knows his power and knows he will rule all the land in due time. All he needs to do is find the red eye'd girl made of stars and the world will be his.
[insert name] is not particularly malicious, but his position as both royalty and immortal headpiece in the army has caused him to lose a sense of reality. He treats subjects kindly, but wouldn't bat an eye in using them for his own gain. He often appears cold and distant when he is not parading around advertising his family.
On one fateful occasion, one of the rare times his mask is put away, he spots the red eyed girl that haunts the prophecies and also his dreams.
Concerns:
His form is too dark. His lack of name. That his character doesn't make sense/isn't exactly what I'm going for.