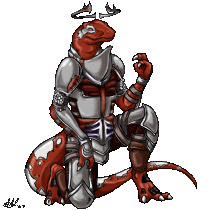 Giovanni 'Vanni' Fauntleroy is an old veteran from another time and place. Stoic, impassive and experienced, he was one of the best in his former army days - until the death of himself and his wife and his subsequent resurrection. He is technically immortal, with a phylactery which is buried with his wife's remains in a secret grave back where he came from. He has recently joined the Imperial army (for what is a soldier without an army) and has been given his old title of 'Commander' back.
He was placed in a tent with two roommates, who bickered and fought constantly and caused continuous problems until he put a stop to it.
Teira is an intelligent young woman with a unique quirk to her; every day at noon she switches personality. This is accompanied by a physical change in features, as well as abilities. When in mage form, she is the army's top spellcaster and scryer, and when in warrior form, she is the best battlemaiden in the Imperial forces. Though she keeps her memories of where she is, what is happening, and what she was doing when the switch hits, she loses all memory of her other side's abilities and this has put a damper on her training, as Vanni insists she must learn to function without magic. She tries to act aloof, as though emotions are beneath her (in mage form) but is actually fairly quick to anger, though she expresses it by being cold with a sharp tongue and withering comments in mage form. In warrior form, however, she pulls no punches and is quick to flare up, preferring to settle things with a fight rather than with words.
Corthrim is the adopted son of a florist; his biological father left him in his adoptive father's care after their relationship ended, along with his three half-brothers. As the eldest, he always felt overshadowed by the bond they had with their father and the talents they had inherited from himn. He left them behind to join the war, in the hopes that he would come back with proud achievements and stories to tell of his own. He is reasonably talented with a bow and arrow, though he lacks proper skill and training. The chip on the shoulder has left him with a slightly snarky attitude and a temper to match.
Together, the three of them have headed out into the forest a little way away from the Imperial camp ground to practice survival and teamwork. So far, it appears to have been working.
Teira detected the presence of a harmful spellcaster nearby as she underwent the switch, and Vanni used his own senses to detect that they were Purine. He ordered them back to camp where they each hid in their camouflage dugout, and they are now waiting to see what will happen next.