Ashe leapt forward, eyes locked on the big purple Pride demon. The monster cackled and flicked it's wrist, the electrical whip catching her shield. Ashe growled and stumbled backwards. Fine, if that's how the monster wanted to play, she had her own tricks. The warrior caught her footing again charged the monster, her shield hitting it full in the knee and causing it to stumble. Before it could retaliate, she raised her sword up in the air and then repeated the same dispelling ability from before, two pulses of white light knocking the monster back.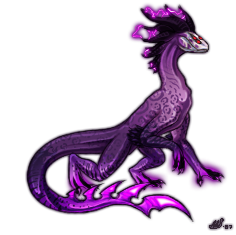 To her horror the demon pulled itself back to full height, barely even bothered by an attack that should have well and truly destroyed it. "

This is the human?

" The demon rumbled, it's voice dripping with scorn. It laughed again, switching it's attention to Tony and slamming down the two whips on his position. "

Weak.

" It paused, flicking it's many eyes between the main group and the archers, and raised a clawed hand, gathering a ball of energy and firing it. The ball arced over the heads of the main party and hit the ground behind them with explosive force, and another barrier shimmered into existence, cutting off the party from their support and several shades crept out of the ground.

"

Varric!

" Hawke turned around and stared in horror at the barrier, the dwarf had been caught on the other side of it. Ashe risked a glance behind her to see who had managed to get on the wrong side of the barrier. Out of her party, only the members capable of close-combat had been caught, including Anders, since some of his abilities had a very short range. Maybe it was enough to bring this monster down. Her mark still needed to charge up a little from using it yesterday, so there wasn't going to be any fancy green powers for a while.

Ashe narrowed her eyes and noticed something moving behind the Pride Demon. "

Don't look now, but he's brought more friends.

"