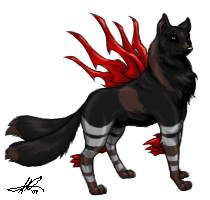 It hadn't been hard to track down the hostage. Just like it wasn't hard now to follow the trail of the agent on their way to rescue them. A member of a glorified vigilante group, people were saying. The hostage was only beneficial to the fanatic organisation in two settings - alive and in their custody, or dead. The directions were simple in theory, terminate the agent and retrieve the captive. But their target was either horribly underestimating anyone who might try to follow them, or that was precisely what they wanted. That had been the reasoning behind bringing the "asset" along with them, in case it was a trap.
That was where the asset came into play. The masked man sat unmoving in the stealth carrier, armed head to toe and without a single thought concerning the conversation around him. If the information fed to him didn't assist in preparing for the mission to come, it didn't even get in one ear to go out the other.
"Target located, prepare for landing--"
"

Don't land it here

."
The footman turned to stare the Soldier down. Licking his lips uneasily, he relented.
"Alright, everyone get your chutes ready."
Once the three henchmen and the Soldier were out of the carrier, the craft turned to land well out of sight. The Winter Soldier didn't wait for his comrades to land before hunting down the opposing agent's trail.