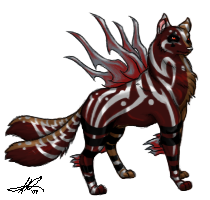 A sharp inhale rattled in the back of his throat before shooting air and sand down into his lungs, instantly creating a cough. Quickly he became aware that everything ached from head to toe; it felt like he had been left at the mercy of tidal waves for hours. His muscles screamed out for any sense of relief and a sharp pain rose in his stomach that told him he hadn't eaten in days at the very least. He felt hot, then cold--a rhythmic back and forth that felt like torture. His coughing quieted down and his red eyes slid open.
It was dark all around him...save for the stars, waning moon, and eye shine of a particularly large reptile hovering over him. Each breath washed a blast of hot air over him as steam billowed from her nostrils. He tried to leap away as his weary mind became aware enough to register the fear he should be feeling but he moved nowhere. Only groaned.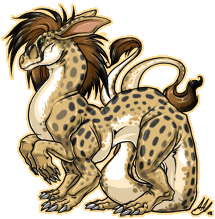 The beast made no move to better apprehend him, simply sat and stared at her quarry like a cat sitting on a mouses tail while watching it scramble in vain. He inhaled a little more sharply, intent on screaming but instead only a pained squeak came out.
"Save your strength, di'kut,"
a voice called from the darkness.
The hair on the back of Silas' neck stood instantly and his eyes began wheeling around in his head until he caught a glimpse of the speaker. She was in her full garb again, only the mask had been loosely pulled down from what he could make out.
"You've been in a coma for nearly a week, I was starting to give up hope on you."