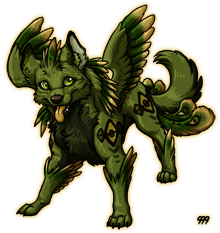 (Temporary form until she gets her own)
(Continued from
here
)
Sam quirked a small, sad smile. "Okay, Liz. I promise. I'll see ya when I get back, okay?" She reached forward and tapped Lizzie's nose, and she offered Sam a watery smile, clearly trying not to cry.
"Y-yeah. Take care, Sam."
She stepped away, and Sam watched her go, weaving through the men to say farewell to her brother. She watched her until she couldn't see her anymore, and then turned back around obediently for Eugene to continue adjusting and checking her equipment. Muck was standing beside her with a smirk, and she rolled her eyes towards him.