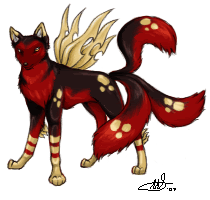 Saya
Kavi
--------------------------------
Gita
The tour was finally over, and now the pups were old enough to not only be mobile but to be more or less self-reliant. Saya had long ago forgone her canine form with them, and while some had watched her shift in amazement others had ignored her completely. Kavi, the little auburn male, was one such soul who had watched her change with extreme interest--pawing at his mothers pant leg and whimpering. She scooped the youngster up, smiling to him.
"One day, I hope."
Orion had spoken for a while of purchasing the house beside Itzal--somewhere quiet and safe where the puppies could live their lives undisturbed. Saya had gotten quite anxious lately, leaving for a day or two at a time before returning home to her family. She had stayed too long, soon her scent was going to be all over this town. The new home would have to come soon...and when it did, she would have to leave to lead her trail away from her offspring and the man that, for some reason, loved her.
The little white female trotted along gracefully--holding the poise of a lady even so young and in such a form as a wolf pup. She exuded grace despite herself, something that worried Saya a bit. No child of hers needed to draw attention or flaunt themselves. But what could see do? They were only six month old puppies--all lanky and legs that most were still getting the hang of using.
"Orion?"
She called softly as she placed Kavi back on the ground.
"Is it time to go see the house yet?"