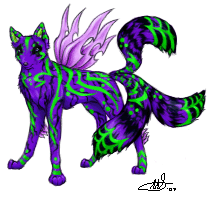 Madeline
Well, it was officially here. The worst possible day of every single year since it had been invented. The single most dreaded day in the young gothic woman's life.
Valentine's Day.
Oh sure, she'd enjoyed it maybe like...three years out of her life in total. But for the larger part of things the entire affair was barely even worth her time to hate on and
that
was saying something. She didn't even have anywhere safe to go--outside was full of lovesick idiots, inside was a mopey Kyrie. Even the television was against her--playing every romantic flick a girl could ever dream of. Even a trip out of town was out of the question--buses full of those going to see loved ones with boxes of chocolates and flowers in hand. She was stuck in hell. This must absolutely, undoubtedly be what hell was like.
"You're celebrating the violent death and beheading of a Saint, you brainless cogs in the societal machine..."
she snarled as her finger tapped the remote again just as an infamous kissing scene was about to play. The pillow in her lap was wrung nastily as she heard yet another resident of the house leaving for their big 'night on the town' with their lover boy or girl. With each slam of the door, Kyrie's sobbing grew a little louder in the next room over.
"Gods, someone shoot me now..."