The day the kids had been waiting for was finally here: Christmas! The adults had already been up for quite some time making sure that all the preparations were ready, that breakfast was on the table and lunch was beginning to cook in the oven. So much to do in one tiny house--luckily Orion and Itzal lived next to one another so there was plenty of space to spread out when needed. It also allowed for one house to be more for gifts, and the other more for food.
Reed
------------------
Cadence
The eldest son of Itzal was busy in the kitchen doing what he did best--icing the cinnamon rolls. He was handy enough, but he liked to leave the baking to others. Icing, however...he could always do that. And he got to lick the spoon when he was done. Cadence leaned against the counter beside him groggily with coffee in hand, watching her band partner idly as he worked.
Kavi
-------------------
Gita
Kavi raced around the kitchen perimeter the adults had set up, his eyes still glazed over with tiredness but his mind more than ready for the day ahead.
"Hurry, hurry! Let's eat so we can open presents!"
he squealed as he watched Reed slowly drizzle on the icing to the morning goodies. Gita wasn't nearly so coarse--she sat quietly at the table with her hands folded calmly in her lap. He nightgown was barely wrinkled at all when compared to her brother's ripped and rumpled set. She sighed at him before her eyes sought out her father in the crowd.
"Will mother be joining us today, father? It has been a while since she last visited us."
As it would happen, the young girls wish was to be granted. The woman strolled down the alley behind their houses with a small parcel of gifts under her arm. It wasn't often she risked bringing gifts home, but her children were deserving of it especially given the time of year. It wasn't much--only items she was able to carry with her regardless of form. And as luck would have it, a new snow was falling fast. Her tracks would be covered and her scent harder to find with the icy wind biting at the noses of anyone pursuing her. She could comfortably stay a few days before moving on again.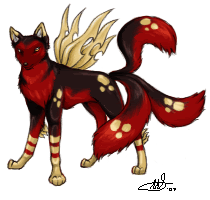 Saya
She walked to the door quietly, looking around to make sure no airborne creatures were around that might blow her cover before giving a single knock. It wasn't her shared home with Orion--she needed to be at least a little polite. And she'd certainly be the only one knocking at the back door this time of morning.