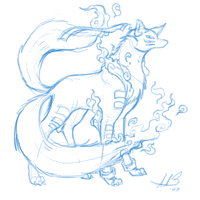 Whisper's footsteps would have been echoing through the forest if they actually made noise. She streaked through the underbrush, laughing and jumping with excitement.
"
We're almost there
," she yelled over shoulder, the flames along her body whipping about. She didn't care to listen for a response, her attention directed elsewhere as she caught a glimpse of soft fire light emanating from the tree line ahead.
With an excited yip, she used a burst of speed to jump through the blockade and land on a gently sloping hillside. She gazed over the bustling plain of Terrace Park to see all sorts of humans and creatures gathering to bring in the New Year together.
With a great sigh, she slumped down impatiently, tails thumping as she waited for her fellow reapers to catch up.