[Terrace Park]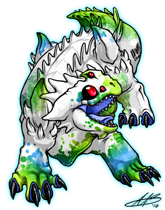 Sparkling eyes absorbed the park grounds with excitement. It was like the yard at home, except even bigger! With more people! She sucked in a breath of air. And the smells! The labs had surely never smelled like this.
GAL romped across the grass, taking in the scenery. What a wonderful field trip for the house to take. Sure it had been an hour since she'd last seen anyone from the group, but that wasn't a concern. They wouldn't have gone on a trip somewhere that wasn't safe, right? Plus Anna said this was where she was supposed to meet up
Colors! The little lizard shoved her snout into a bed of purple flowers, relishing the tickling sensation of the soft petals against her nose. Something flickered in front of her vision, and an insect alighted just inches away.
"Oooh," she breathed, her eyes widening. It was one of those flying things - what had Dale called them - a buggerfly? GAL watched as the creature flexed it's wings, the sunlight glinting off the bright yellow hue. They looked so fragile...
And then it was gone, fluttering off to another destination. "Come back!" GAL cried, starting after it. "I won't hurt you!" Why wasn't it listening to her? She was so busy trying to track the butterfly's erratic flight that she didn't notice the creature she was about to charge into.