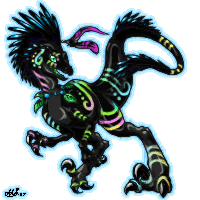 "
Have fun, Sharpclaw
!" A voice yelled after the Serraptor as she made her way down the road to the park. It was time to have a fun day!
Ah, April Fools day, the best day of the year.
Well, it wasn't the first of April, that was true, but it was still April, so that was good enough. The dinosaur happily hopped down the road until coming to the nice soft grass of the park. There was a playground nearby, but she wouldn't go there, not yet. She had someone to meet here.
With a sly grin, she hid behind a bush, keeping as quiet as she could and holding in giggles. Eventually, she saw a shape coming down the road. Her smile widened, and when he was juuust close enough to be able to see her in the bush...
She jumped out, "
Boo
!"