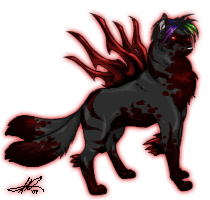 The steady drip, drip, drip of the IV bag mimicked the ticking of the clock on the wall as Arrikanez relaxed on one of the chairs to the side of the waiting room, leaning forward. The liquid running from the bag, to the tube, into his veins, felt cold and slimy. It did nothing to soothe the nausea as of yet, even though the nurse had promised he should be feeling better soon. Regardless, there wasn't much he could do
aside
from wait, as he had shown up here without an appointment, without Luminare's knowledge, and with nobody to vouch for him. Passing out halfway to the park was sort of a spur to the whole
'get to the hospital and see a doctor, you moron'
thought that had been niggling in the back of his mind for at least a couple of weeks now.
Well, the "moron" part was a recent addition, as well as a reflection of his perceived stupidity in not having made an appointment, or come into the ER sooner.
He sighed and rubbed his eyes as he watched the hands of the clock chase each other around the bright white face. The thicker hand was settled comfortably somewhere between the seven and the eight, and the little hand was creeping up toward the playfully stenciled twelve. Given the fact that it was dark outside, it was nearly eight o'clock PM, and no doctor had shown up yet to his summons. A nurse had given and attached the IV, and told him to take a seat and wait. Which he had been doing for the better part of three hours now. Luminare would have never let this stand... but Luminare was probably busy, in surgery, or just not here, so Arri had to deal.