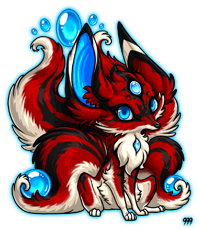 The sun was hot, as usual. It had just passed the highest point in the sky, making it close to the hottest part of the day. It was probably inadvisable to walk along black sand that had baking in the sun all day, but she knew that if she could just get down to where the water was crashing into the shore she might be able to avoid burned pawpads. As it was, she was slowly sweltered to death in the
shade
. Risking a burn didn't seem quite so crazy when the humidity alone made her feel like passing out.
Having giant, bat-like ears would be a whole hell of a lot more helpful in wicking away the heat if it had been dry instead of so damn humid.
With a huff, the fenling climbed to her tiny feet and stared at the ocean as if it were issuing a challenge. One deep breath to steady herself and she was off like a shot, racing across sweltering black sand to the cooling waves lying just beyond. It took a moment for the pain to register, but pretty soon her run started to look more like a hop as she yelped her way down that final stretch before she could throw herself face-first into the lapping tide.
She didn't waste any time. Once the ground wasn't conspiring against her, she flopped right down on the wet sand to roll it all over her body. She didn't give a damn how stupid she must look with four legs dangling in the air and black sand coating her fur, she was on a mission. A mission to
cool down.