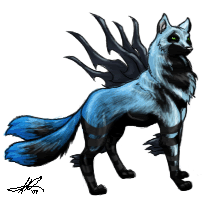 The evening buzz was a mix of raucous laughter, yelling and loud music. No one really expected Nabias, out on the edge of nowhere, to have a a scene like this, but when you threw together large amounts of people, copious amounts of alcohol and areas that could only be described as the "bad side" of town, it became an inevitability.

Nika slipped through the chaos like a ghost. They fitted in remarkably well, unnoticeable from the crowd. In their short, too short dress and heels it was difficult to see them as anything but entirely feminine, which was exactly what Nika wanted. They were frighteningly thin, with short, dark hair and lips painted a violent crimson. Tonight, Nika could feel the beat of the music rather than hear it, mixing with the voices and the shouting, it became a steady pulse, a heart beat. It made Nika feel sick with anticipation.

Dodging into an alleyway Nika lent against the cool bricks, feeling them scratch against their shoulders. They raised a hand up to their face, to check if they were shaking. They were not. Nika's hands had never been more steady. They sighed softly, pulling their attention away from everything else so they could focus on the task at hand.