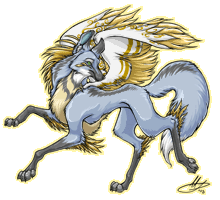 The damned bird had run him all the way to Barakka. He had crossed the stretch of Lambastia, had nearly caught it at the Dead Coast, had lost it in the Natural Museum of the History of Salt (what kind of museum had a two-inch thick tunnel running from one entrance of the building to the other??), and had spent four days at sea as a result, chasing after the stowaway. Ves was prone to seasickness. It had been an unpleasant experience.
He wasn't even sure if it was a bird. It sort of looked like a bird, he supposed. It had a tail and something that resembled a beak and these tiny little wing-appendages that somehow managed to lift it off the ground anyway. But no legs, no feathers, and most freakishly, no eyes. Also, it seemed to be made of plastic.
Ves sighed and ran one hand through his dirty blonde hair. His tracker had told him the bird was steadily heading towards Nabias. Thankfully, the thing slept (or did some approximation of sleeping), because its movements always stopped for a few hours each day. The duration and time of day was always a bit different, though there seemed to be some pattern Ves hadn't quite worked out yet. But the point was the bird slept, so Ves could sleep too.
And tonight he needed to find a place to sleep. Maybe he'd look for a bar, too. Ves hitched his bag higher on his shoulders and started down the road to Nabias. He hadn't had a drink in months--maybe even a year or two--but after four days of vomiting on a boat, chasing down a plastic bird from another world that could
change its size
...he felt some alcohol was in order.
[1]