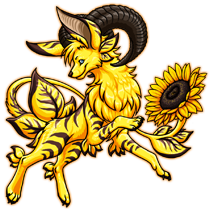 Jonquil Soleil had accidentally overslept. It was a rarity that such a thing happened, as his internal clock usually never let him down, and it was a rarity enough that he could tell just by the feeling of warm sun on his face. The boy sat up quickly, reaching up to rub his eyes, ignoring the slight headrush of sitting up so fast. He swung his feet around and planted them firmly on the wooden floor, warmed by the sunlight pouring through the window, and he reached out to run his hand along the side table to touch the red-handled white stick he kept by his bedside.
He grabbed it and and walked to the other side of the room, lightly tapping until he heard the familiar hollow sound of his dresser, and in a few minutes, he'd dressed himself well enough. He was lucky to have clothes that didn't clash with each other--it made very little room for error, even with Jonquil's lack of sight.
As the boy passed his grandfather's room on the way to the stairs, he heard the man's weak, choppy snoring and smiled with fondness. And with a careful, familiar step, Jonquil descended the staircase to the lower floor of the two-story building--the store floor of Soleil Florals. He made his way to the shop front and flipped the sign around, knowing he'd done the same last night and that it would now read
OPEN.