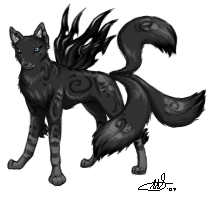 ((Warren/Leksa, humanoid form. This takes place sometime within the last two years.))
Crystals glistened with a soft teal light as Leksander stalked past, the glow of the sigil carved into his forehead intense enough to guide him through the cavern's deep and winding passages with ease. The base of his spear dragged across the cave's floor, emitting a painful, screeching scrape that echoed further down the path as well as back out the way he'd come from. Would someone or something hear him? Leksa didn't care.
A part of him hoped they would, in fact. A little entertainment while he was down here doing his masters' bidding was in order, he felt. But hopefully, not something too difficult, lest he fail to go through with his task entirely. That would end... unpleasantly. For himself.