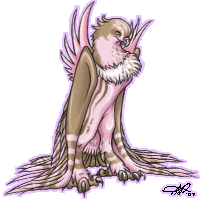 The current state of existence was nothing. Blackness. The lack of light. This was to be for all eternity. Until, however, brightness filled the dark void. The creation of the universe? No. Just a discombobulated man waking up from a short stint of unconsciousness. Rays of sunlight bled through a squinting pair of eyes, blinding and intense. The individual had to do a little crunch to regain a vertical posture. The colors seemed to swirl around in his vision. Sat up too fast.
With a few grunts the man was able to finally stand up on his two feet. He stumbled around a bit before regaining balance. He stood and studied his surroundings for a good minute. He had two feet. On those feet were pants and two boots. On his torso was a leather jacket. It was daytime, seemingly before noon. Surrounding him was a repeating landscape of pink flowering trees of different shades, along with a few other ferns and trees. Oriental looking. A stream of a red liquid trailing him. The source was a gash running from his stomach to his chest.
The man's cinnamon skin was visible through a tear in the fabric. It appears that the source of this injury was some kind of scrape against a surrounding rock. The trails of blood hadn't been from any kind of walking beforehand. The man had been moving before his collapse. Walking hurt, now that he noticed it. There was a ache in his knees, and a sharp pain coming from one leg. Probably a fractured or broken limb.
No use in focusing on the matter. He needed to recuperate. First, the basics. His name was Clay. Clay Valverde. That was true. He was an engineer. Testing contraband technology, to be specific. His time watch. Clay raised his arm to observe the piece of technology. On the face of the accessory was a bar only half filled, with a percentage signifying some kind of reboot. It read 46% percent. Something had gone wrong. It was always like this, it seemed.
Clay was walking in search of some water. His flask was empty or filled with alcohol. Getting drunk now wouldn't help anything. The temptation was brushed off to the side, parallel to Pandora's Box. A creek would suffice. Something to wash off in, get the grime off. Something to drink. The engineer was parched.
His search revealed nothing for a time. The progress of the watch was advancing at a snail's pace. 48%. What a pathetic way to die. Out in the forest of some unknown year and location. Would he die here? Not if Clay could help it. It appeared that lady luck was in Clay's favor in the end. In front of him was a structure that appeared to be some kind of shrine. There was a characterizing red arch, undoubtedly Japanese. Torii, they were called. Perhaps there would be some goodies to loot here while waiting for his damned watch.