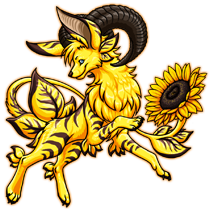 (Human form)
Ophelia's hands trembled as she held the letter, fingertips gently tracing back over the familiar handwriting.
He's alive
... A shaky exhale passed her lips, as she leaned heavily against the wall of the army's mail room. The letter from Elliot was the first one she had received from him in years. She had feared the worst for him, but even then, she had refused to return home. The Purine cause meant everything to her, even more than Elliot, though the thought filled her with guilt.
Shrugging off the heavy emotions, she folded the letter and slipped it back into her satchel, her usual neutral expression taking hold of her face once more. She took one last look around the room at her fellow soldiers before stepping out onto the streets of Lamenolai.
At least the weather is complaisant
, she thought, attempting to push an optimistic frame of mind as she strolled down the walkway. In truth, she was a bit nervous, but was masterfully ignoring it.
She was on leave for a week starting today, and was planning on returning to the Tuun Mountains for the first time in years. It was because of this that she was making her way towards the train station on the other side of the city.
*Edit for simple grammatical errors.