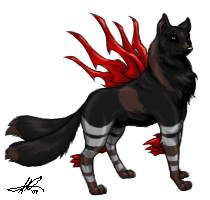 ( Bucky/Winter Soldier, human form. This takes place a few years in the past, because ~I still don't know what to do with him in the present~! )
The Soldier flitted from one shabby building to another, keeping himself hidden and out of sight. Whether or not shady happenings occurred on a regular basis in the slums of south eastern Barakka, there was no need for anyone to know what he was doing... except for a certain someone who would soon be taken out. Quickly, and quietly. As always.
A part of him found disdain in the state of the slums, but there was also something... vaguely familiar about the place. The broken windows, dirty children scampering about the damp roads...
He dismissed the thoughts from his head. No. There was nothing familiar about this place save for the other spare times he'd been shipped out here to do as ordered. Nothing but the mission was important. So he pushed off and made sure his face mask was well secure, stalking through the alleyways.