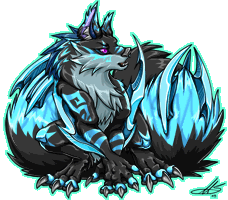 Red eyes glared out from the thunderstorm outside, rain striking the ground like gunshots. The glacial beast trotted towards the metal door stranded in the dark alley, and yanked it open with a strong pull. Inside, he shook the water off without remorse, possibly splattering a few of the costumers.
"Hey, nice joint ya got 'ere." he yipped, strolling towards where Nickledime stood. "

Piacere

, miss. The don wanted to place a little bet on a friend of ours,

Venom

."
He browsed over the types of bets, muttering quietly. "Ah, how about a

Luck Struck for 70 KS

, yes? I think that will please the boss." He dished out the KS, the coins clanking on the table.
[ Money subtracted. ]