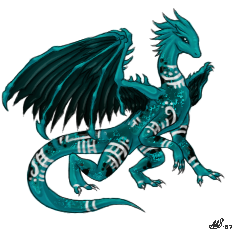 Andromeda pulled the knot tighter around the tree branch, then dropped her hands with a nod of satisfaction at her handiwork. Turning around, she patted the side of her panting Moss Dog as she walked towards the fallen tree blocking their path. Sighing heavily, the tall woman slid a hand up through the sweaty bangs plastered to her forehead. She squeezed her eyes shut, letting the coolness of her fingers rest against her warm face. She didn't have time to hang around, it was already after noon!
Lifting her leg, she nudged at the tree with her foot lightly, then kicked it. She grimaced, dissatisfied with her findings. Though she had been prepared for nearly any scenario, Andromeda certainly hadn't packed a saw in her small bag. Her dagger wouldn't do the trick either...
With a frustrated grunt, she kicked the tree again. Before she could further lose her hold on her emotions, she turned and made her way back towards the Moss Dog. Her companion seemed to sense the irritation and shifted uncomfortably as she approached. Andromeda, seeing her companion's discomfort, snapped out of it, and her annoyance shifted into defeat.
She grabbed her knapsack off the saddle and plopped down at the base of the tree.
Looking for another path seems to be the best option
... She thought as she slid the map out of her backpack.
For now, anyway
. She needed to save her strength for later, not spend it on moving trees. After a final glance up at the tree, Andromeda shook her head and began scanning the map.