A while back, Kyrit very generously dumped a handful of GT on me and told me to get something nice for myself. Soooo I waited a while until there was a sale. What of it?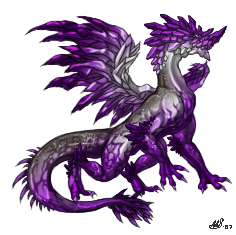 This guy is based off an amethyst geode! Fun story about this guy: When Baal was working on this guy, she PM'd me because, what are the odds, she just happened to be making an amethyst-geode-themed Paragon as a random when this order landed on her lap! She offered me the random design juuuust in case. XD I ended up incorporating some of the random elements in my design and she repurposed the random. I've been stalking this thread, but either the repurposed random hasn't been sent or whoever got it hasn't posted it. Or maybe it got repurposed so much I can't spot it? D:
Cactus 'gon! This lady is actually inspired by a creature called a Saboquill from the Spectrobes universe, as a member of Freezy's Menagerie. But I like that creature because I like dragons AND I'm a proud desert-dweller. Cacti are my bros. I'd hug them if it wasn't a terrible idea. 8D Originally this design used a mutation marking, but one of the new markings worked really well as cactus ribs!