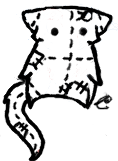 Purr~
Meet the Patchwork Cats!
These are cute, little plush cats for you to take home. They are fully customizable, from the color of their patches, to the tip of their ears. You can even buy little accessories for them. Of course if you can't think of anything to make for your Patchwork Cat, you're welcome to order a random. :3
x
Randoms are 10KS
x
Customs are 15KS
x
Breedings are 10KS
x
2KS for an add-on of any sort
x
If you do not send a note with your KS, you will not receive your Patchwork Cat(s)!!!
(***From my Kafera auction a really long time ago; If you bought a Free Pass, Custom, Breeding, or Random, you can use them for these, since Kafera are sort of dead.)
x
Since plush cats can't really breed, present two of your patchwork cats, and I will make another Patchwork Cat that resembles both of it's "parents."
x
Custom form:
Code: Select all


[b]Main Body Color(s):[/b]
[b]Patch Color(s):[/b]
[b]Any designs on the Main Body?[/b]
[b]Total:[/b]

You can customize your Patchwork Cat to have lots of different Main Body Colors, some places a different color then others, or it can be solid. Same goes for the patches. Want half 'n half colors? Go for it! Anything you can think of. The only thing you can't do is gradients. :)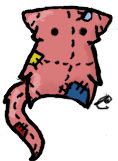 Why don't you have a freebie to take home with you? Just as a welcoming gift.
Code: Select all

[IMG]http://i225.photobucket.com/albums/dd153/YoshiEatsRamen/MyPCAT01.png[/IMG]
(If you take a freebie, be sure to let me know.)
We might come out with other Patchwork Pets later, just keep a lookout, and enjoy your new Patchwork Cats. :3
So, what counts as an add-on?
Since there may was/may be some confusion, here is what generally counts as an add-on:
x
1 Set of Wings (you may purchase two sets of wings for example, one set on back and one set on head, it was be 4 KS for both sets of wings.) One wing alone is also still 2KS.
x
Horns/Halos
x
Necklaces/other jewlery (It is also 2KS for every piece of jewelry on it, with the exception of earrings, which is a set unless you want just one)
x
Auras
x
More patches
x
Anything that isn't a marking/design on the main body.
But if you have any questions, please ask.