INSONIA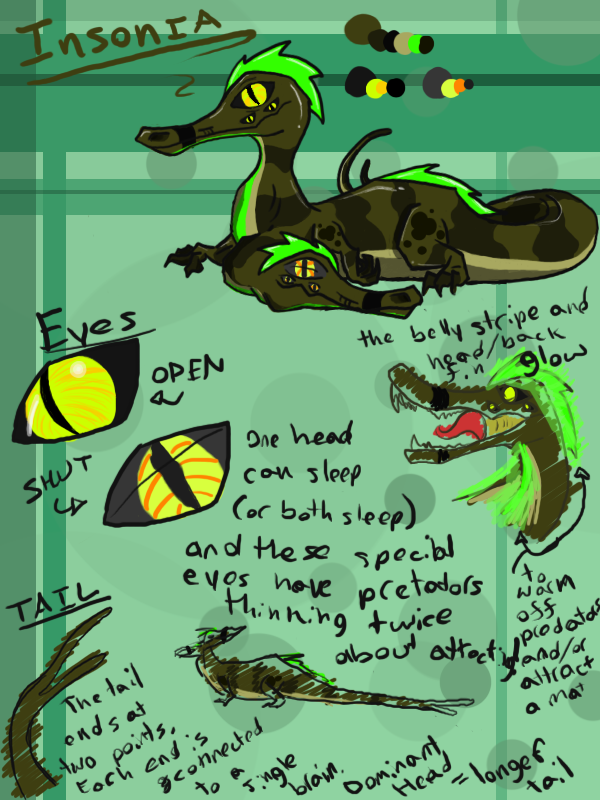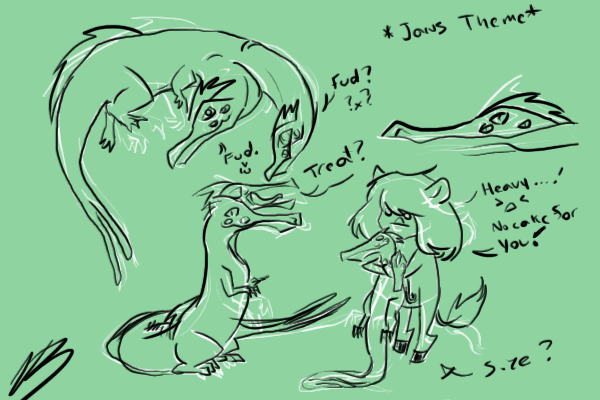 SPECIES:

Insonia (subject to change, welcome to change)


HABITAT:

Baian Swamp (Select Habitat)


GENDER PERCENTAGE:

Male: 50% | Female: 50%

This species was discovered by one of Evelons many adventurers. At first our lucky discouverer thought the hatchling it had found was a genetic misfit, a freak. Soon, though an angry two headed, 12 eyed mother made the Evelonian think otherwise.
The insonia (as it's being called) is hard to spot due to it's colouration. During mating season they are easier to spot; at this time the frill/fin on their back and both heads glow (as does the thin stripe down the center of their belly). This glow is used to attract mates.
During times of danger an insonia will light up to confuse and/or temporarily blind their opponent to either get away or attack the threat.

Many wonder just how is it that this creature functions with two heads? Don't they fight or get confused? Many of Evelons greatest minds (not Einsor, he's always busy) have wondered this same thing but find the strange relationship nearly beyond scientific reasoning. The two heads have minds and personalities of their own and yet function perfectly under one body. There is, however, one head who is slightly dominant. This is not always easy to tell but if you staighten out an insonia you'll see that the tail, near the end, splits into two. One "tail" is longer then the other, always. The head quordinating with the longer tail is dominant. Scientists have been unable to determine if a larger difference in length between the two tails means more control of the body and decisions as a whole.

Another curious adaption this creature has made are the curious pattern found on the eyelids. They eerily resemble eyes and, in fact, that's the point. These markings allow one (or both) heads to rest and sleep without having to worry about predators who may see those unblinking eyes starring at them and decide to try again at a later time when the insonia is asleep. The name insonia comes from the word "Insomnia" or "Insomniac", referring to those whpo cannot sleep.

Size wise an insonia would make for a good house hold pet, otherwise it doesn't quite fit the bill. Insonia are curious by nature, dark places nothing for them and their ever present glowing body parts. Other pets will be terrorized (as will your feet) as they can be rather territorial and defensive. They'll eat just about anything but preffer small birds like polly or snaller sea creatures, like kuni or trumpetter.
If you're willing to put up and keep up with an insonia you'll have an unloyal, but fun, friend for life*!



* Life = The time it takes for the insonia to find a master with better fish
~*~*~
UNNAMED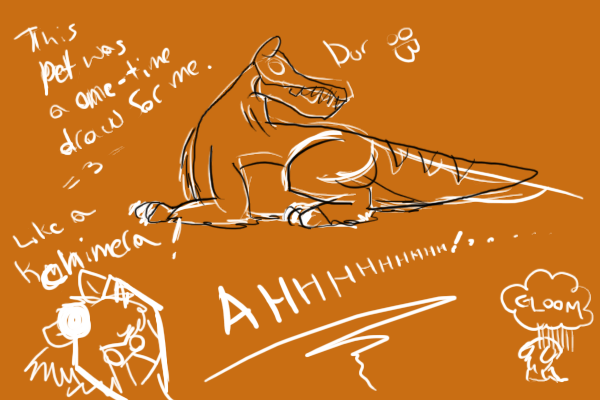 SPECIES:

Unnamed (Really needs to be changed, don'tcha' think? XD)


HABITAT:

Wilt'no Desert


GENDER PERCENTAGE:

Male: 50% | Female: 50% (Adult Percentage Is About: Male: 35% | Female: 65% due to violent, often times fatal battles for mates put on by the males of the species)

Territorial, violent and quick to anger these guys are very untrusting to humans. Since the dawn of man the pelt and organs have been used as x-ray machines. Even in todays modern medicine the pelt of the ___ is still the best way to check for broken bones. The species is hard to find and very endangered. They're most often found being sold on the black market and are the most saught after prize of any poacher.
Thankfully these guys are terribly difficult to hunt because of their, well, invisibility. Often times to attract a meal a ___ will lay down in the sands of the Wilt'no and wait for a scavenger to happen upon the bones. When it comes in close enough the would be scavenger is now food for the ___.

The skull most ____ wear is usually of fallen prey or a defeated ___ from a past breeding season. It is a show of strength. Most ____ wear their largest kill while leaving the skulls of past victories in their den to show off to mates. The markings on the skull show some more intelligent, artistic tendencies of the ____. A very complex creature most Evelonians strive to keep this species safe.

Native people to the Wilt'no warn their children not to stray too far into the sand or the "Baby Snatcher" will get them. This is all fairy tales and legends but the description of the "Baby Snatcher" matches the ____ to a tee. No recent reports of ___ snatching babies or children have been made in a town around the Wilt'no (in case you were wondering).