Quest: Make a list of ten (or more) of your favorite Halloween Pets (may include Riddle or Puzzle Pets).
1) Hallow Dalma
2) Slaughter Dalma
3) Sweetodd Dalma
4) Relowockee
5) Star Seraphent
6) Decayed Fenling
7) Skeleton Teigu
Coastal Shartile
9) Circuit Corbine
10) Hex Icthysaur
11) Oilspill Barghest
12) Paradise Shartile
13) Mantella Baal Dragony
...I have
types
*grabbyhands*
Quest: Start a roleplay in Rewhister Ocean and make at least ten posts. Must be started in this month. Link it.
Link
Quest: Choose one of your pets, draw their human form and show us! Full body is not required, but at least bust would be ideal. Full body chibi is acceptable. Not judged on quality, only completion. OR describe their human form in 150 or more words. Show the pet's regular image.
Reward: 25 KS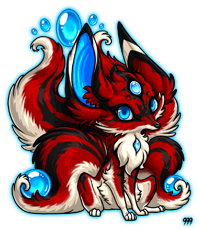 This is Skylark. She's probably my oldest character, starting out as a wolf, actually, and morphing all the way into the typical fox-like form I put her in today. She's fairly average-looking, so I'll be going into her animal features mostly. Yes. Yes she is a freaking fox-girl. In her current form, she draws inspiration from both a fennec fox and a jackal. Her ears are long and thin, resembling a fennec's but too thin to truly be one. They're a sandy color with a bit of silver grey on the backs. Her hair is dirty blonde and lightens during the spring and summer due to spending so much time out in the sun. It comes to about chin length at it's longest, typically cropped shorter to keep it out of her eyes. She has a long floofy tail that doesn't really resemble any species in particular. It's somewhat fox-like in shape, but she has more control over it than a fox typically has. She's also prone to tail-flicking like a cat when particularly excited. It's the same sandy color as her ears, but from the base to about midway down there's more of that silver/grey coloration.