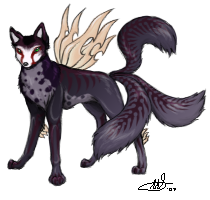 Since the events which had once taken her life already, Zya had settled herself into a comfortable route far from her native home in Whisper Forest. Her days were now filled simply with the tending of a what seemed a long abandoned temple to what Zya liked to believe had been a benevolent goddess. This afternoon had been no exception to her route, as she had spent hours tending to the small gardens which bloomed along the side, and in back of the temple. She'd also happily created and had just finished lovely racked the small rock which sat at the center of the rear garden. The soft scents of jasmine, lotus, and night lily brought a peaceful smile to her lips, while the pollen from the water lotus gave her skin porcelain skin a golden shimmer in the fading light.
Without a word she moved inside the temple's stone archway, to the real place of worship. Her trusty broom still stood leaning in the archway, which she snatched with careful fingers before beginning her evening sweep of the floors. As her broom danced across the stone floor, Zya allowed her mind to imagine how beautiful this place must have once been. On her lonely days, she imagined people coming in and out to worship and leave their offerings. Her mind heard songs with no words singing to the goddess, the joy filled voices calling out. Today however she simply allowed herself to image this temple, clean with light and laughter of children who would have played outside. At least here she didn't have to worry, she was safe from any worshiper's who might have wished to make a blood offering.
As she swept Zya offered the goddess her own prayer. Her voice barely able to raise above a gentle whisper, had lost none of its feminine chime. The ugly scar which still marred her neck would never heal further, just as her voice would never have the strength it once did. She shuttered at the memories, the alter and the harsh disgusted warning of the god she'd once severed as he'd looked upon her after she'd revived. "
Thank you goddess, for the safety and haven.
" She set aside her broom, and knelt down beside the alter setting down a small bowl of rice she'd made. Beside it Zya lit three sticks of gentle smelling incense to go along with the rice. "
May you accept these offerings, and with them be at peace.
" She normally would have left it at that, but today for some unexplained reason Zya removed the delicate silver necklace she'd worn since her arrival and set it on the small alter as well.
With that done, and figuring the goddess wouldn't mind Zya's former betrothal gift, she rose and wrapped her kimono back around her. She retrieved her broom and set it once more in the archway as she slowly made her way out of the temple's rear doorway. She never felt the four sets of eyes upon her, as she crossed the gardens with one last peaceful smile. She would go home now and fix herself something small to eat, possibly sit and watch the stars for a bit before bed. As she passed around the side of the temple four men followed from the shadows, each man a type of fox spirit. They belonged to the small clan which lived within the boarders of the rainforest. Slowly they stalked her to the outskirts of the small village she had taken up in, waiting and watching as Zya stopped to by a small bag of rice from the vendor cart and a few small fish. She did earn extra coin by repairing clothing for a few hours each morning, after all she still had to eat.
Once she was past the vendor, who was closing up his cart, the sleepy town beyond was peaceful enough for her. Not a single soul stirred as far as she could see, something that put her falsely at ease tonight. It was in the sleeping darkness that the four struck, hands grabbed her arms and mouth. Struggling as best she could, Zya only managed to claw at the hand wrapped on her mouth. That was until she recognized the dark fox masks they wore on the sides of their heads, each marked with blood red. A hoarse barely whispered scream pulled from her throat, but no one would have heard her as the rice and fish slipped from her hands.