*Points at Hilal, the starry furred Fellox*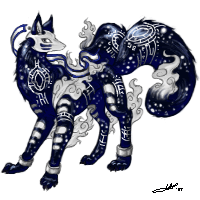 *gets hit by Hilal * Ouch! XDDD;;;
Anyway...on to the wishes!
Wishes
(Scale of how much I want it: * - *****)
~ Paragon Breeding Room Key *****
~ Lucain Breeding Room Key ****
~ Custom slots ****
~ Breeder Boosts (any version) ****
~ Random Diosols ****
~ ELEs ***
~ Generative Draughts ***
~ Art of my characters ***
~ Fuyuzakura Shinzo **
~ KS **
Existing pets I love
(Consider it a compliment if your pet is here)
Khimera:
X
Lucain:
X
,
X
,
X
,
X
,
X
,
X
,
X
Paragon:
X
Diosol:
X
,
X
,
X
,
X
,
X
,
X
,
X
,
X
,
X
,
X
Customs
(This mainly serves as a reminder for me what order forms I need to write still, lawl.)
~ A Fellox:
Code: Select all

1. What pet species do you want customized?: Fellox

2. Eye Color:#005200

3. Describe, in as much detail as possible, what colors you want on the pet and where:
- Mask should be white.
- Shackles should be white
- Flames should be white
- Spots should be white
- Ribbon and bead should be completely white
- The fur should be #8AC3D4
- The rim of the mask should be white
- The stripes on the mask should be #8AC3D4

4. Accessories:
(For better understanding, pictures of the character the Fellox is based on:
http://fc00.deviantart.net/fs71/f/2010/123/7/9/7993695ef1d467039580c8a447288b9d.jpg
http://superherouniverse.com/wallpaper/artists/mike/batmanbeyond/images/BB/CURARE.jpg

- "Markings": Should basically look like bandages wrapped around the Fellox, inspired by the character. Some around the chest and the base of the tails are kinda needed in those places because of the other accessory.
- Beads/necklace/belt: Whatever you want to call these brown (#C99F6D) things the character has. I'd like a necklace and "belts" wrapped around the tail-bases of the Fellox

5. Background Type (See below): White background

6. Total Cost: ???
~ A Fellox based on
Dedai/Deadeye
~ A Fellox based on
Kuruna
~ A Fellox based on
Shinonome
~ A Fellox based on
Sakuya
Wishes come true
~ Peacer Fellox (traded with Shrewdberry. I love yooooou! <3)
~ Imeut (gift from SkyWolf11. <3333 So much love from meeee~)
~ Peacer Fellox (bought from Mojave. I'm so happy, finally my second one <333)
~ Peacer Fellox (a present from my Secret Santa Tazzin! <3 Homg much love!)
~ Mirage Fellox (Santa Baal brought it to me on Christmas Eve! <3 Best Christmas present I got this day!)
~ Fuyuza Lubshii (a present from my Secret Santa Middy! <3 Thank you sooo much, I love these guys!)
~ ELE (a present from Millie! <3 Thank you sooo much, I love it and have so much use for it!)
~ Paragon Room (from the Wish-A-Thon! Super-amazing gift, thank you soooo much!)
~ Custom Fellox (from Cookie~ Thank you sooo much! The Fellox-army loves you, too! <3)
~ Art of Bentner and Morwena (a birthday present from Millie! <3 Thank you sooo much, I love yooou!)
...and that's all so far. Lol, big post, small list. 8D;;;