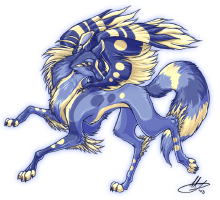 A small shop is tucked away on a dimly lit street, it's outside grungy and covered in bright neon graffiti. A spray painted sign declares it to be "Spray Paint, Graffiti, And a Touch of Magic: A Design Shop". The inside is lit brightly and the walls are plastered with posters of varies species in a wide variety of fur, scale, and feather colored designs. From neon pink panda kuhnas, to oil slick piyos.
Behind the counter sits a softly colored yonyuu who smiles pleasantly at you as you enter.
"Hello! Welcome to my shop! Here I offer a wide selection of premade, and custom made, designs for you to use for your pets. Have a seat and take a look through our books to see what we have."