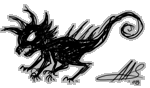 Oh, my. Whatever could that little creature be doing. Goodness, it's positively in a rage, scratching its little claws all over that paper. Should we call somebody? Spritz it with water? I'm starting to worry for the poor thing. What's that? It just said something about crumblies? Munchies? Argh, I'm not getting any of this... Oh, is that... a drawing? It's drawing things now? ...Huh. This isn't half bad. But my, it's working quite quickly...
[In short, this is a little shop where you guys request stuff for me to draw traditionally in graphite pencil, and I snap the best quality pic of it I can find and send it to you, or digital art! I'll be sure to get the best lighting so the quality is as good as I can get~ I've found I can churn out traditional art a lot faster than digital art, as a warning, though. I'll do animals, anthros, humans, you name it~ But please check the "What I will NOT do" section before ordering!]
Examples!
Traditional:
[x]
[x]
[x]
[x]
[x]
[x]
[x]
[x]
Digital:
[TBA; see shrewd's koniglitch pic]
Finished Pieces:
[Shrewdberry's Koniglitch]
[Baal's Tony and Moof's Loki]
[SkyWolf's Aniya]
[crow's Reaper and Heat]
Prices!
Traditional (only lineart):
Critter - 50 KS
Furry - 75 KS
Human - 100 KS
Multiple characters - Add 50 KS for each one
Digital (in order: sketch, lineart, color, shading):
Critter - 50 - 75 - 100 - 150 KS
Furry - 75 - 100 - 150 - 200 KS
Human - 100 - 150 - 200 - 250 KS
Multiple characters - Add 50 KS for each one
ALSO:
If you have a
Memorial Lakundra
for trade, that would be amazing, because I need one for a character!
I also accept GT at the rate of 1 GT = 25 KS!
What I will NOT do:
- Pets with complicated patterns
- Armor (I'm terrible at it, you won't like the result!)
- Cars, bicycles, or any other vehicles (see above)
- Anything NSFW (You want ur characters making out? Sure thing. But no naughty bits, pls. :'0)
- Intense gore (As in guts spillin'. A little blood never hurt anyone but pls be reasonable!)
Form:
Code: Select all

[b]Format[/b]: Traditional / Digital [pick one]
[b]Type[/b]: (only if digital; if traditional, leave blank or put "N/A") Sketch/Lineart/Flatcolor/Shade
[b]Payment Type[/b]: KS/GT/Both/Other?
[b]Details[/b]: [Describe as much as you want, or give me some artistic freedom! Additionally, please provide as many references as you can / wish, here, for accuracy.]
Slots:
1. RiDragon's kuhna character [KS already paid]
2. Shrewd's 2 humans [150 KS]
3. --
4. --
5. --