a. Pet Image: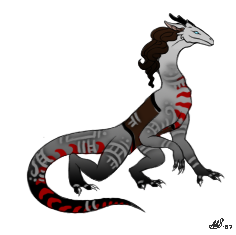 b. Parents: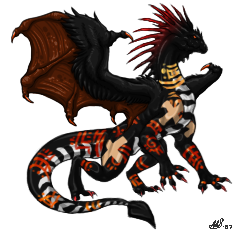 c. Baby Markings:
Ancient, Body Bar, Scarbelly
d. Parents Markings:
- Male; Ancient, Scarbelly, Crossed
- Female; Body Bar, Lizard Legs, Striped
e. Potions:
Palette Potion
Krypto: Evelon rules, and my previous notes in this thread have clearly stated you can't use #000 on a pet and it can only be as dark as the darkest color on the parent. Otherwise, the grey one the base is fine, same for the Ancient. brown can be mixed with wingcolor + grey + any of the orange shades on the dad. That red is not possible either, the ancient is too orange and the head is not saturated enough.