Kelp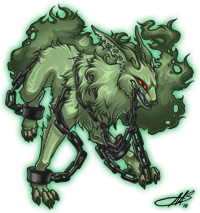 Resurrected Spirit | Ex-Soldier | Harsh
Barghest
Backwards:
Plek
Pronounce:
Kellp
Meaning:
Type of Seaweed
Gender:
Male (female body, for now)
Orientation:
Age:
16
Art:
Level
3
Diet:
Element:
Dark
Passive Traits
: (Iron Reminder, Malevolent, Silent Shadow) Phylactery, Possessor, Spirit Communication, Spirit Sense, Perceptive, Human Form, Human Speech
Battle Traits
: (Dark Heart, Go Ethereal)
History:
Here
Personality
: Never having been loved, he does not know how to care for others, and is very cold and harsh. Due to his training, he's always aware of what goes on around him and often causes trouble for people because of his occasional lust for fighting. His new life now circulates learning how to be "normal".
Random Info
:
Related
: