Dirge

(Der-juh) | The Male Lucain
0 Posts |

Level

1 | Carnivore


Offense

of 10 |

Defense

of 6 |

Precision

of 6


Endurance

of 11 |

Speed

of 8 |

Fame

of 10
Element of



Battle Traits

; Blindsense, Spectral Strike, Spiked Body, The Will's Connection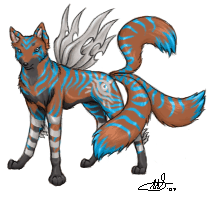 Khelse

(Kehls) | The Female Lucain
0 Posts |

Level

1 | Carnivore


Offense

of 9 |

Defense

of 5 |

Precision

of 7


Endurance

of 13 |

Speed

of 8 |

Fame

of 10
Element of -



Battle Traits

; Blindsense, Spiked Body


Lineage

; Vice x Noir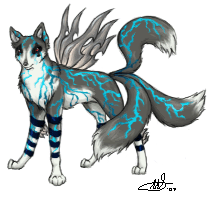 Stellettas

(Stehl-leht-ahs) | The Female Lucain
0 Posts |

Level

1 | Carnivore


Offense

of 9 |

Defense

of 5 |

Precision

of 7


Endurance

of 13 |

Speed

of 8 |

Fame

of 10
Element of -



Battle Traits

; Conductivity, Elusive Foe, Spiked Body





• If asked, Stellettas would tell you she has no parents. Oh, she knows who she was born of, but she refuses to accept either of them. Instead of being cast out of the family, she chose at a young age to leave the family and go off on her own. She has no known powers, but that is probably just because she hasn't tried to find out if she does have any. She'd rather just live a normal life.
• It would also seem as though Stellettas enjoys the company of none other than her "fathers'" worst enemy, Chouka Ketsuekino. Because of this, her brother Sybry wishes to get his hands on her and erase her from their lives completely.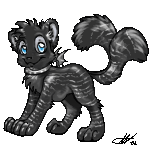 Reive

(Re-vuh) | The Male Memorial Kuhna
# Posts |

Level

| Piscivore/Carnivore


Offense

of 4 |

Defense

of 8 |

Precision

of 3


Endurance

of 16 |

Speed

of 4 |

Fame

of 10
Element of



Battle Traits

; Team Defense, Tough Hide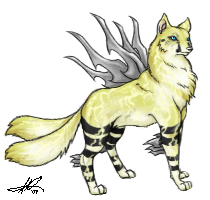 Klowde

(Kuh-lou-duh) | The Male Lucain
0 Posts |

Level

1 | Carnivore


Offense

of 10 |

Defense

of 6 |

Precision

of 6


Endurance

of 11 |

Speed

of 8 |

Fame

of 10
Element of



Battle Traits

; Conductivity, Elusive Foe, Powerful Jaws, Spiked Body