---
Darkness... No matter where you looked, there was nothing but darkness all around you. How you got here, not even you know. For what felt like a long time, all you could do was float aimlessly in this darkness. Feeling nothing, hearing nothing, seeing nothing... Until something gentle and warm took hold of your very being, and began to drag you along somewhere. That somewhere, was very bright. With a temporary dazed feeling, you slowly open your eyes to find yourself in a strange and very well lit room. On every wall that you could see, were bookshelves jam-packed with tons of books, there could have been thousands, if not more, here! Wanting a closer look, you started for one section of bookshelves, only to stumble and nearly lose your balance on something. Recovering, you looked down to only now notice the ground wasn't very even. Worse yet, you almost fell into a hole filled with water... Within its depths, there appeared to be many aquatic creatures, some of which weren't solid as they freely swam up out of the body of water, passing right through your hand as you reached out to touch one. Through closer inspection. it seemed it wasn't entirely a hole in the floor. In fact, gazing down towards one of the hallways, it appeared to be quite dark in there... With strange movements coming from it...
"Huh? Who in the world are you?"
A voice had spoke up, with the sound of a book being closed following after. Distracted by this, you turn towards the owner of this voice. Strangely enough the question came from a Draculi with a rather puzzled look on its face.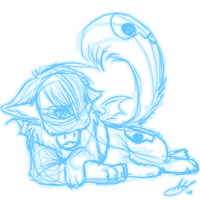 "Better yet, how did you even

get

here?"
The cat had probed further, unable to resist the need to stare at this new individual with curiosity gleaming in their eyes. Watching your every move, and could even go so far to believe that it may actually be studying you. It patiently awaited an answer, as it was quite the curious circumstances here. From what you could guess from the voice, the cat was likely female.
After the silence had dragged on for far too long, she eventually grew bored. Stretching out and letting out a yawn.
"Not much of a talker, I suppose? Ah well... Whatever."
Suddenly standing up and hopping off her perch, that had been a table, to walk along over to one of the nearby bookshelves.
"Perhaps you may be a better listener instead. There's not too much to do here, so company is kind of nice..."
There was a faint trace of a tiny smile upon her mouth at this, she hadn't had any new company for a while actually. Upon reaching the bookshelf, her eyes trailed down the spines of each book individually. The cat's tail gently brushing against each one as she moved further down.
"Let's see here... No, no, no..."
She kept muttering to herself, occasionally pulling a book out halfway before pushing it back into place. It kept going on like this for a little while.
While you were waiting, something suddenly brushed up against your arm. Looking down, you saw what looked to be one of those small Kuni creatures had bumped into you. It seemed quite pleased as it stared back at you, giving you a happy squeak in greeting. Where did it come from though? And was it floating in the air? With an flick of the Draculi's tail, she had paused from what she was doing and breathed out a sigh, looking at the Kuni.
"You had something to do with

this

, I'm guessing?"
She had asked it, adding a small jerk of her head to indicate that she meant you. The aquatic creature gave yet another, but more shrill, squeak in reply, snuggling up into your arms.
"Hmph, of course you did. I suppose it isn't a problem, much better to stay in here, than our there after all."
At that, her gaze had briefly turned to the darkness beyond her room, before she returned to what she was doing.
"Aha! Found it! I hope you like stories, stranger."
The cat had purred in delight, as her paws reached into the bookshelf to pull out a book. Finally leading you, and the Kuni now clinging to you, back to the table, she jumped up and set it down beside her. Upon closer inspection, you could see that it appeared a little plain, being a shade of blue. There was no sign of any title on the cover, or any other words for that matter.
"So, there is a good chance you might be here for a while, and I thought I'd tell you some stories. To help pass the time of course."
She told you, as she flipped the book open, which at a brief glance with the correct angle, the cover was actually iridescent. Something seemed to occur to her however, as her attention turned back to you.
"Oh, I'm sorry. Seems I forgot to introduce myself... You may call me Skylar, and my rather affectionate companion here is Ákos. We're much like you, in that we reside in Evelon. But in another realm, which is this one right here, we're different. Guardians of this room you could say."
Skylar didn't elaborate further on this subject, merely she pointed out into the darkness.
"Supposedly, nobody should be able to enter except us. Because only this room, and the ocean beyond, exists here. So how you got here is a mystery."
With a little illumination, you could finally see that there were sea creatures swimming about just beyond. This place was actually surrounded in water, the room itself the only thing not submerged.
"But enough of that. Since a swim out in those waters is ill advised, let's get to those stories now, shall we?"
The Kuni, Ákos, had chattered excitedly as they both peered into the contents of the book.
---