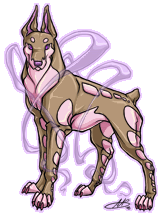 .:Cvetka:.
|Svet-kah|
Female; Males Preferred
[Shielupe/Blossom]
Lineage: N/A
Character Images: None
_________________________________________
Lifemate Status:

Available


Trade Status: N/A
Additions Needed: tail extension (to look like a shiba inu style tail), a demon shadow (resembling a scribblen or burnt scribblen) coiled around her left foreleg (the one in the foreground).
_________________________________________
Name:

Cvetka




Definition:

Feminine form of Cvetko, meaning "blossom". (Slovene)


Name Definition and Origin Info from: HERE


Gender:

Female

Age:

12 (Beast Lifespan; Mental Age 22)




Alignment:

N/A

Diet:

Carnivore




Height:

3'10''

Length:

3'5''

Weight:

42kg


________________________________________________


P E R S O N A L I T Y




Defensive and loyal, clever and brave. Intelligent.




H I S T O R Y


Cvetka was originally a normal shielupe, roaming the mountains with her pack. She was the alpha, and her pack followed her every command.
After she and her pack were captured by trappers, they were taken to Lya Pointa Cathedral, where they were separated and used for demonic rituals. Cvetka was the only one to survive the bonding.
She forged an alliance of necessity with one of the ritualists, and together they hatched a plan to escape the cathedral in order to find the secret library of the order, so that they may learn how to prevent the order summoning a colossal demon that will destroy the world.
---
Posts

:

213

Level

:

42




Element:

Ice/Dark


STATS:

(Calculated at end of each RP)


Offense: 59

+2 (Baian Swamp Bonus)


Defense: 83
Precision: 34
Endurance: 64
Speed: 37
Fame: 36


Traits:




-Species Traits-

Extended Life Span, Fearless




-Color Traits-

Herbalist




-Acclimation Traits-

Forest Dweller, Mountain Dweller




-Healing Traits-

Cellular Regeneration, Disease Immunity, Regenerate Limbs, Speedy Healer




-Magic Traits-

Shape-Shifter, Size Modifier, Spiritbond (Nim)




-Personality Traits-

Animalistic Nature, Blunt, Brawler, Focused, Inner Discipline,
Loyal, Perceptive


-Physical Traits-

Climber, Contortionist, Dash, Extended Life Span, Half-Mortal (Demon Bond), Human Speech, Keen Hearing, Keen Scent, Keen Vision, Leaper, Pain Resistant, Thought-Speech (Nim Only)




-Social Traits-

Grid (Nim), Homeless, Hunted (The Order), Independent, Leader (Pack), Protected (Nim), Tracker




Battle Traits:

Frost, Bomber, Burst Spin, Lunge, Puncture, Sharp Senses

(Species traits: Powerful Jaws, Rousing Speech) (Color traits: Mother Nature's Son)

)


RP Color:

#FF40FF
---
Relations
Mate

--


Family

--


Friends

--


Allies

-- Nim

(Bonded)

, Alice, Moff


Enemies

-- The Order


Neutral

--
Plot Notes
Cvetka has been bonded with a fragment of a demon soul by The Order, who are experimenting to ensure the survival of their leader during his attempt to bond with the Worldbreaker. Cvetka formed an alliance with Alice, who had also been bonded to a demon, in order to escape. They are currently regrouping in Baian Swamp after escaping through a portal, and are seeking the portal to the Great Library of The Order, so that they may discover how to prevent The Order from summoning the Worldbreaker.
Previous-Closed Threads
-->
Biting Cold Indeed!
-
+2 Def/+3 End (Tuun Mountains Bonus)
- 50 Posts
-->
Taming the Storm
-
+3 Def/+2 Off (Lya Pointa Cathedral Bonus)
- 100 Posts
---
A domestic species bred by ancient royalty, the Shielupe are a breed known for their companionship and loyalty. Many stories have been told of Shielupes bravely sacrificing themselves for their owners. Their bodies produce ribbons of plasma that are psychically linked to the individual animal and can be manipulated; it can grow, shrink, change shape, and become solid. The Shielupe uses this as a defensive weapon.
---
20 levels in a +3 Def/+2 Off will put me at 83 Def/59 Off. - 100 Posts in Lya Pointa Cathedral or Craiss Caverns - Will put me at 83 Def/59 Off/34 Pre/64 End/37 Spe/36 Fam
17 more levels in a +2 Off will put me at 100 Def/93 Off. - 85 Posts - Baian Swamp
All of that will put me at Level 48 - 100 Def (cap)/93 Off (cap)/50 Pre (cap)/81 End/54 Spe/40 Fam (cap)
Then
Whisper Forest - +3 Spe/+2 End - need 10 levels for 100 End = 84 Spe @ Level 58
Then
Idalani Falls - +2 Spe - need 8 levels for 100 Spe @ Level 66
All stats will be capped out @ 100 Def/93 Off/50 Pre/100 End/100 Spe/40 Fam @ Level 66
So
10 Levels in Tuun Mountains = 50 Posts
20 Levels in Lya Pointa or Craiss Caverns = 100 Posts
17 Levels in Baian Swamp = 85 Posts
10 Levels in Whisper Forest = 50 Posts
8 Levels in Idalani Falls = 40 Posts
Total = 325 Posts @ Level 66
Going by map, it'll be Lya Pointa -> Whisper Forest -> Baian Swamp -> Idalani Falls
Which will leave stats @:
Tuun Mountains - 50 posts/10 levels @ +2 Def/+3 End = 19 Def/23 Off/14 Pre/34 End/17 Spe/16 Fam
Lya Pointa - 100 posts/20 levels @ +3 Def/+2 Off = 79 Def/63 Off/34 Pre/64 End/37 Spe/36 Fam
Whisper Forest - 70 posts/14 levels @+3 Spe/+2 End = Problem; need def/off to cap first.
Solution: map hopping - portals.
Actual plot - Tuun Mountains = running wild, savage pack mentality, capture. - Complete
Lya Pointa = Change, ally, learning, escape. - Complete
Baian Swamp = Searching, discovery, knowledge. - In Progress
Whisper Forest = Hunting, survival, travel.
Idalani Falls = Sanctuary, planning, travel, help.
Lya Pointa = Confrontation, interference, resolution.