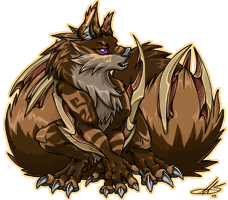 .:Jesus Domovoi:.
|Heh-soos Doh-moh-voy|
Male; Females Only
[Werecain/Wood]
Lineage: N/A
Character Images:
Human
_________________________________________
Lifemate Status:

Open


Trade Status: N/A
Additions Needed: N/A
_________________________________________
Name:

Jesus Domovoi




Definition:

First Name: Derived from the Ecclesiastic Late Latin Iesus, which is from the Ecclesiastic Greek Iēsous, a name derived from the Hebrew yēshū'a, a contraction of yehōshū'a (help of Jehovah, God is salvation). Surname: Unknown (Latin/Greek)


Name Definition and Origin Info from: HERE


Gender:

Male

Age:

29




Alignment:

N/A

Diet:

Omnivore




Height:

5'8"

Length:

5'3"

Weight:

67kg


________________________________________________


P E R S O N A L I T Y




Self-Absorbed, Affluent, Snarky, Smug and Arrogant.




H I S T O R Y




Jesus is a charmer. This stereotypically spanish playboy likes the women and doesn't hesitate to use every trick in the book to make them fall at his feet. With a suave attitude, chocolate coloured-skin and fur, and a heart-stopping grin, this bad boy will stop at nothing to make his target fall, but will drop her like a stone unless she can keep him on his toes. Bi-lingual, speaking english and spanish fluently, with an accent that is guarenteed to turn any head, Jesus is also insanely rich, and enjoys flashing his wealth at every opportunity. Should he wind up committed, he will be generous and caring, but selfish, possessive and insanely jealous, and won't take any nonsense from his partner.
---
Posts

:

14

Level

:

3




Element:

Dark/Earth


STATS:
Offense: 12
Defense: 5
Precision: 10
Endurance: 14
Speed: 9
Fame: 10


Traits:




-Species Traits-

Human Speech




-Color Traits-

o




-Acclimation Traits-

City Dweller, Heat Adaption




-Healing Traits-

Disease Immunity, Regenerate Limbs, Healer's Vision




-Magic Traits-

Dispel Illusion, Lifesense, Shape-Shifter, Witchlight




-Personality Traits-

Adaptable, Charismatic, Extrovert, Gold-Hearted Jerk, Hard-Headed, Smooth Talker




-Physical Traits-

Body Pouch, Evasive, Hulking Figure, Keen Scent, Keen Hearing, Synesthesia (Werecain form only)




-Social Traits-

Corporate Cheif, Independent, Legendary Tracker, Defender (Lifemate), Silent Shadow, Weapon Expert




Battle Traits:

Deepening Darkness, Life Drain, Spectral Strike, Entrenched Roots, Fissure, Stone Spires

(Species traits: Powerful Jaws, Spiked Body) (Color traits: o)

)


RP Color:

ColorCode
---
Roleplays
[url]No plot yet[/url]
Relations
Mate

--


Family

--


Friends

--


Allies

--


Enemies

--


Neutral

--
Plot Notes
Rich playboy seeks women.
Previous-Closed Threads
--> None - Post count
---
Werecain can be found in the forests of Roraldi. Legend tells of people that were bitten by cursed Lucain and became beasts themselves. While it is not scientifically proven, none can deny the existence of this canine cousin to the Lucain. They are highly intelligent and live in tribes possessing strict social ranking that is adhered to under strict penalty. The markings on its fur are painted on with dyes from plants and are attributed to rank; those of the highest possess the most intricate.
---