Animal House
I have reset all my pets' stats back to zero, as of this
post
Welcome to Komfy Kuhna Kondos! These apartments have been specially designed for Kuhnas, though we do also have a few apartments available for humans and anthros. But we specialize in providing rooms for kuhnas - kuhna-sized rooms furnished with paw-operable stoves and lamps, wall platforms, and kuhna basket beds! We don't provide knick-knacks to knock off the platforms, though - you'll have to furnish that yourself! Kuhnas who are fond of their humanoid form are also welcome here - we have mixed apartments with kitchenettes designed for humans and bedrooms for kuhnas! Furthermore, we have a variety of apartments in a variety of price ranges, giving everyone a chance to find a home that fits their price range and comfort needs! So come in and get your paws settled into a home designed for you!
Rayim
Common Kuhna
Gender: Male
Human form: Yes
Size: Small
Diet: Omnivore
Acclimation: Terrain Traveler
Physical: Padded Paws
Battle:
Traits: First Aid, Chatterbox, Explorer, Look It Up, Teacher, Wanderlust, Shape-Shifter
Description:
Rayim is a perpetually cheerful kuhna with one great love: the varied lands of Evelon. He has loved exploring and traveling from an early age, and has made himself an international tour guide for all of Evelon. He is almost constantly traveling about, seeing new sights and learning new facts about all the land. He loves each place and part of Evelon with it's own unique attributes, culture, and setting, and he wants everyone else to love it too! He's so eager to share this love, sometimes he forgets to attend to his tourist customers' real needs and wants in lieu of showing them some especially fascinating aspect of the area. He is a very caring and compassionate soul, though, so he tries hard to not let himself get too carried away! His big, open, and eager heart has made him many friends throughout both continents.
+41
Offense: 15 Defense: 16 Precision: 21 Endurance: 18 Speed: 13 Fame: 22
Wood Rattegan
Ralphy
Species: Wood Rattegan
Level: 1
Size: Tiny
Diet: Omnivore
Traits: City Dweller, Spider Climb
Battle Traits: None
Personal: Hoarder, Sticky Fingers
Location: Animal House
Description:
Quiet, clever, stealthy, Ralphy prefers to avoid being the center of attention. He likes to hide in dark corners and at heights above most people's line of sight. He is a very good climber. He was rather scrawny when he first ran into Mike and Anthony, but since then has fattened up quite a bit, as Anthony loves to spoil him with treats! Fortunately, he is quite active, exploring and climbing throughout the house, so he avoids getting too fat! He never speaks, but he is evidently very intelligent.
+8
Offense: 5 Defense: 3 Precision: 11 Endurance: 8 Speed: 9 Fame: 9
Species: Viral Velix (T)
Level: 1
Diet: None
Element: Metal
Offense: 7
Defense: 5
Precision: 4
Endurance: 6
Speed: 6
Fame: 7
Passive Traits: Automaton, Chaotic Mind
Battle Traits: Extended Claws, Metal Plating
Location: Zoo pen
Description: Description: One day, Anthony was wandering about the city, following around Rayim who was giving him a tour. They came across a scientist loudly announcing his newest creation - a funny-looking, dinosaur-like, little black robot. He was giving up to two away to anyone who wanted any. Since they were free, Anthony decided to take one. He had a friend back home who was obsessed with robotics, and Anthony was sure he would love something like this. Now if Mike could just figure out how to teleport them home...
Toink
Frost Ball
Size: Tiny
Diet: N/A
Element: Ice
Battle Traits: Frost
Physical: Hover
Description: Anthony and Mike got this little guy for Christmas while trapped in Evelon. He just sort of hangs around the house and makes these strange little tinkling noises, occasionally darting into the fridge or freezer when he gets too warm. He's named for the noise he makes most often.
Lacertos
Sauria Battleheart
Gender: Male
Human form: yes
Size: huge
Diet: Carnivore
Acclimation: Mountain Dweller
Element: Fire
Physical:
Battle: Pyro, Tough Hide. Wingstorm
Traits: Aerodynamic, Extended Life Span, Human Form, Human Speech
Personal: Brawler
Description: Lacertos is an arrogant, self-centered dragon who considers Battlehearts to be superior to all other species, and Sauria Battlehearts to be superior to other Battlehearts. Born and raised in the south Tuun Mountains, he comes from a long line of man-eaters, and is proud of it. He enjoys proving his strength against his fellow battlehearts and intimidating everything else. He doesn't really respect anyone or anything besides other dragons. Fortunately for the human population, though, he has been too busy getting into fights with other dragons to prove his superiority to have had time to eat any humans.
+9
Offense: 12 Defense: 9 Precision: 7 Endurance: 20 Speed: 6 Fame: 7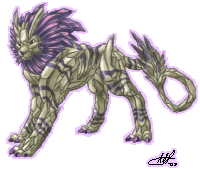 Paxca
Peace Hunter
Gender: Female
Human form: No
Size: Medium
Diet: Carnivore/Silicivore
Acclimation: N/A
Physical: Extended Life Span
Battle: Spiked Body
Traits: Inner Discipline, Fearless
Description:
+15
Offense: 11 Defense: 9 Precision: 8 Endurance: 14 Speed:7 Fame: 11
Shianen
Sugilite Hunter
Gender: Male
Human form: No
Size: Medium
Diet: Carnivore/Silicivore
Acclimation: N/A
Physical: Extended Life Span
Battle: Spiked Body
Traits: Fearless
Description:
+10
Offense: 13 Defense: 11 Precision: 9 Endurance: 17 Speed:10 Fame: 8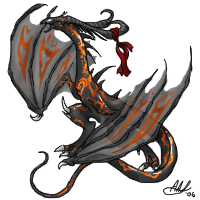 Magnos
Common Hollowheart
Gender: M
Human form: No
Size: Huge
Diet: Carnivore
Acclimation: N/A
Battle: Flyby Attack, Powerful Jaws, Wing Buffet
Physical: Aerodynamic
Traits: Thought-speech
Description: Magnos is a proud, yet kindly dragon, and has many acquaintances because of this latter trait. He tends to be the strong silent type, though, and very few actually know much about him. Magnos only allows a select few to get to know him very well, a few who have proven themselves to him to be the kind of friends who will throw away life and limb on a moment's notice, should he be in need of such. He in turn is more than willing to do the same for them.
In addition to taking his friendships seriously, he is also deeply loyal to the Grand Hollowheart, having served under him in the past, and thus takes obedience to his orders very seriously. In fact, he is a pretty serious dragon in general, and one doesn't often see him crack a joke!