Gray, as most know her, lives in a small house. However, through some clever dimensional twisting by an ageless spirit that takes the form of a Lucain, her house has become larger on the inside than the outside.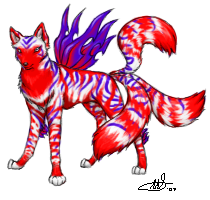 Dimension
takes the form of a female
Striped/Hyaena Lucain
. She is able to manipulate the surroundings of the house to constantly expand it, while keeping it exactly the same size on the outside. However, these powers only work in the house, although she has plenty of magical ability otherwise. She can take on several alternate forms, but her preferred one is her human form-in this form, she has one white-furred tail with red and blue stripes, and two white Lucain ears.
She can seem very cold to some people she meets, but she's actually quite kind-hearted to those who live within her walls, as well as always willing to take in strays. Her exterior only became so cold after she was betrayed by a man she loved, after which she chose to forsake him forever. It is because of him that she now prefers her Lucain or human form to her Kuhna form.
Dimension's
alternate form is a female
Common Kuhna
.
Level 6
Posts: 25
Offense: 10
Defense: 8
Precision: 13
Endurance: 15
Speed: 10
Fame: 14
Passive Traits: Padded Paws,
Celestial Heritage (Social), Naturally Magical (Magic), Human Form (Physical), Shape-Shifter (Magic), Gold-Hearted Jerk (Personality)
Battle Traits: None
Diet: Piscivore/Carnivore